4th KWiSE Administration
Headquarters Officers:
President: Dr. Eun-Suk Seo (UMD)
VP West: Dr. Jane Oh (NASA JPL)
VP East: Dr. Hae Young Ahn (FDA)
Executive Director: Dr. Eun-Ju Cheong (USDA)
Project Director: Dr. Seongeun Julia Cho (FDA)
Publication Director: Dr. Hey-Kyoung Lee (JHU)
Treasurer: Jayoung Wu (UMD)
IT Director: Jong-Ae Kim (UMD)
Web Master: Ji Hye Han (UMD)
| | |
| --- | --- |
| Chapter | Chapter President |
| Greater DC | Dr. Eun-Ju Cheong (USDA) |
| Los Angeles | Dr. Jeong-Im Woo (USC) |
| NIH | Dr. Hee-Yong Kim (NIH NIAAA) |
| Research Triangle Park | Dr. Youngjin Park (SAS) |
| San Diego | Dr. Eunha Hoh (SDSU) |
| Southeastern | Dr. Jae-Kyung Lee (Emory Univ.) |
President Statement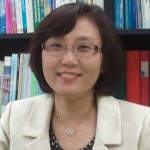 Dear Fellow KWiSE Members,
Seasons Greetings! May the blessings of the season be with you throughout the New Year. I would like to congratulate and thank the Publication Committee, chaired by Prof. Hey-Kyoung Lee, for the successful revival of the KWiSE Newsletter. We are taking an ambitious step to produce the Newsletter quarterly, whereas it was published annually in the past. Frequent publication of the Newsletter will help us stay closer to the community, and it will play an important role in building a stronger organization.
Since the last Newsletter was published, the NIH (National Institutes of Health) and Southeastern Chapters had Fall Conferences. I would like to thank Drs. Hee-Yong Kim for organizing the KWiSE-NIH conference and Dr. Jae Kyung Lee for organizing the Southeastern Conference. Needless to say, a lot of you helped them to make both conferences such a success. I would also like to thank Dr. Youngjin Park for organizing a Research Triangle Park (RTP) Chapter meeting. It was a great opportunity for me to meet with institutional representatives in the area, particularly student leaders, e.g., Sally Park, KSEA-YG Duke co-president, and HaiRyung Sung, Korean Student Association President at the University of North Carolina (UNC), Chapel Hill. Following my visit to the RTP Chapter, KWiSE-RTP had a membership drive at the UNC Korean Association of Students and Scholars Annual General meeting.
In addition, a Mentoring Dinner "Opportunities for Students" was held at the University of Maryland. It should be noted that three Korean student organizations worked together to organize this event, namely Korean International Student Association (KISA), Korean-American Scientists and Engineers Association (KSEA), and Korean Business and Economics Student Association (KBESA). I am very proud of student leaders, particularly Haewon Han, the President of KISA and KWisE Students Council, for leading this effort. This event was organized in collaboration with the KSEA Washington Metro Chapter and the Center for East Asian Studies. Most of the presenters were KWiSE members, and their presentation files are available on our web site: www.kwise.org.
I gave an invited talk at the 4th Korean Graduate Student Association Symposium, where graduate students in Maryland got together to present their research work. The quality of presentations was extremely high, and the topics were broad. It was an impressive student activity, and it was also good to see female speakers being awarded.
The Executive Director Dr. Eun Ju Cheong, who is also serving as the Greater DC Chapter President, and I attended the GNetKOWST Forum 2014 (Global Network of Korean Women in Science and Technology Associations 2014) in Seoul, Republic of Korea on November 14, 2014. This forum was hosted by and organized by the Korea Federation of Women's Science & Technology Associations (KOFWST) with the theme of "Korean Women Worldwide in Science and Technology-Where we are and where we are going." It was a good opportunity for me to promote KWiSE to the global community. Representatives of the Asia-Pacific region, Canada, and the European Union also made presentations on their activities. The forum provided a great platform for global networking among Korean women scientists around the world. The Director of Women in Science, Engineering and Technology (WIEST), Dr. Heisook Lee, made a presentation on the Policy Trend. This forum was followed by the 2014 KOFWST Conference with the theme "Women Scientists and Engineers who are changing the world," which was attended by about 250 people. Both the GNet Forum and the KOFWST Conference facilitated scientific interactions and added much potential for future collaborations and networking. I would like to thank the Honorable Hee-Young Paik, former Minister of Gender Equality and Family of Korea, and the President of KOFWST for inviting us.
KOFWST and KWiSE will continue to collaborate closely and host a Women's forum at the US-Korea Conference on Science, Technology, and Entrepreneurship (UKC 2015), which will be held in Atlanta, GA, 29 July – 1 August, 2015. I hope to see many of you there.
Finally, I would like to emphasize the importance of our database, which is currently both incomplete and inaccurate. Please use the latest CV form emailed to you to update your profile. Or, visit our web site www.kwise.org, and update your profile by using "Edit My Profile. When you renew your KSEA membership at www.ksea.org make sure to choose KWiSE as an APS (Affiliated Professional Society).
Eun-Suk Seo
President of KWiSE