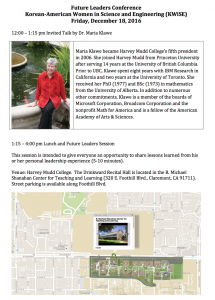 Future Leaders Conference Korean-­‐American Women in Science and Engineering (KWiSE)
Friday, December 18, 2016
12:00 – 1:15 pm Invited Talk by Dr. Maria Klawe, President of Harvey Mudd College
1:15 – 4:00 pm Lunch and Future Leaders Session
This session is intended to give everyone an opportunity to share lessons learned from his or her personal leadership experience (5–‐10 minutes).
Venue: Harvey Mudd College. The Drinkward Recital Hall is located in the R. Michael Shanahan Center for Teaching and Learning (320 E. Foothill Blvd., Claremont, CA 91711).
Street parking is available along Foothill Blvd.