Dear KWiSE  LA-SD chapter members,
We are happy to announce that our 10th KWiSE West Coast Annual Conference, titled as "Towards Work-Life Satisfaction; Meeting of Science & Life Reaching out to The younger generation and Networking", will be held at Qualcomm, San Diego, on May 14 (Saturday, 8:30am-4pm). The flyer, brochure and map is attached below.
This year we have amazing 8 speakers who will share their successful story in the career development journey as a women scientist and engineer.
We also introduce the new KWiSE SD Mentoring Program in the conference which is designed to assist Korean-American women in science and engineering to accelerate professional development, leadership capabilities and achieve career success by sharing expertise, experience, perspectives, attitudes and values.
We believe this conference will help your career development to achieve work-life satisfaction, and will be a good opportunity to meet the experts in the field, share your thoughts and interests, and make a network with people in the science and engineering field.
You can come with your friends and colleagues as well as your family.
For the proper progress of meeting, we strongly encourage you to do pre-registration via Eventbrite.
(https://www.eventbrite.com/e/10th-kwise-west-coast-conference-tickets-25112564356).
For LA chapter members, please contact to Dr. Suejung Huh (LA chapter president,T. 732-543-5412, suejunghuh@gmail.com) to coordinate carpool to come down to San Diego.
We hope we can see many of our members there.
Best Regards,
Baek, MinSon
KWiSE-SD Chapter President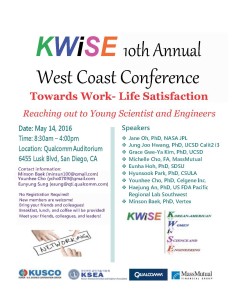 West Coast Conference Flyer 2016